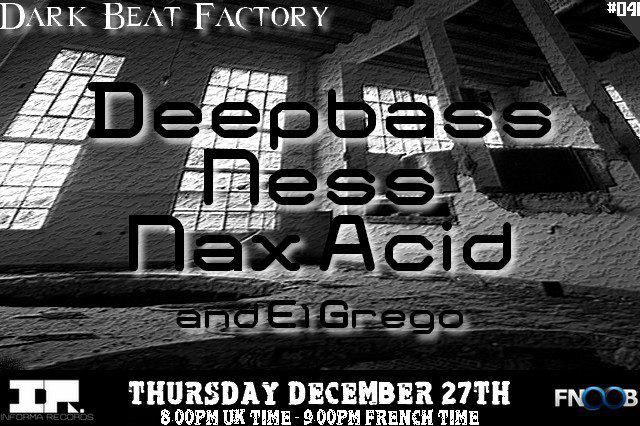 Dark Beat Factory is a show hosted by El Grego and ULaws. In each show will be placed a awesome guest from France mainly.
The sound is going to resound dark and techno.
The last show for 2012 will be a bit special cause we invite Informa Records and his label owner Deepbass. He choose to present us besids his set 2 artists with whom he collaborate. So for these 2 hours, we will 30 minutes of each one and El Grego will make a short set to close this year.
Refracted - From A to B - Aconito Records
Handahofi Tioni - Handahofi 002 (b) - Handahofi Tioni Musik
Hironori Takahashi - Orgaza - Aimeresse
Mike Parker - Track 4 - Geophone
Nax_Acid - Marilia - Aconito Records
Baby Ford - Normal (Aphex Twin RMX)
Claudio PRC - Transparent
Conrad Van Orton - Autumn
Cassegrain - Painter Of Modern Life
Conrad Van Orton - Cosine Of X
Deepbass & Ness - Chemtrails
Survex - SRX-01 (Deepbass Remix)
NX1 - DR (Paul Boex remix)
Mas Teeveh - The Man Who Lived 1000 Years (Ness Remix)
Chemtrails (Smell The Conspiracy) (Giorgio Gigli's Variation) - Deepbass & Ness
Stige (Deepbass Remix) - Dark Room Alliance
Proximity - Deepbass, Ness